The History of Grand Teton National Park
Before I get into the best things to do in Grand Teton National Park, let's take a look at the history of the natural wonder. Grand Teton National Park is a +310,000-acre national natural area located in Jackson Hole, Wyoming, and was established as a natural park in 1929 (for those of you who are unfamiliar with the geography of Wyoming, Jackson Hole is in the northwest corner of the rectangular state).
Being the most prominent range in the park, the Teton range spans 40 miles across Jackson Hole and is home to notorious peaks such as Mount Moran, Mount Saint John, Buck Mountain, and Grand Teton itself. In my humble opinion, the Grand Tetons are the most beautiful mountains in the United States.
Native Americans originally inhabited the area in and around Grand Teton National Park, but during the 1800s, fur traders were highly prominent in the region due to the insane amount of wildlife and game. It's no surprise that the fur trading industry eventually led to the first federally-funded exploration expedition in the late 1850s and early 1860s.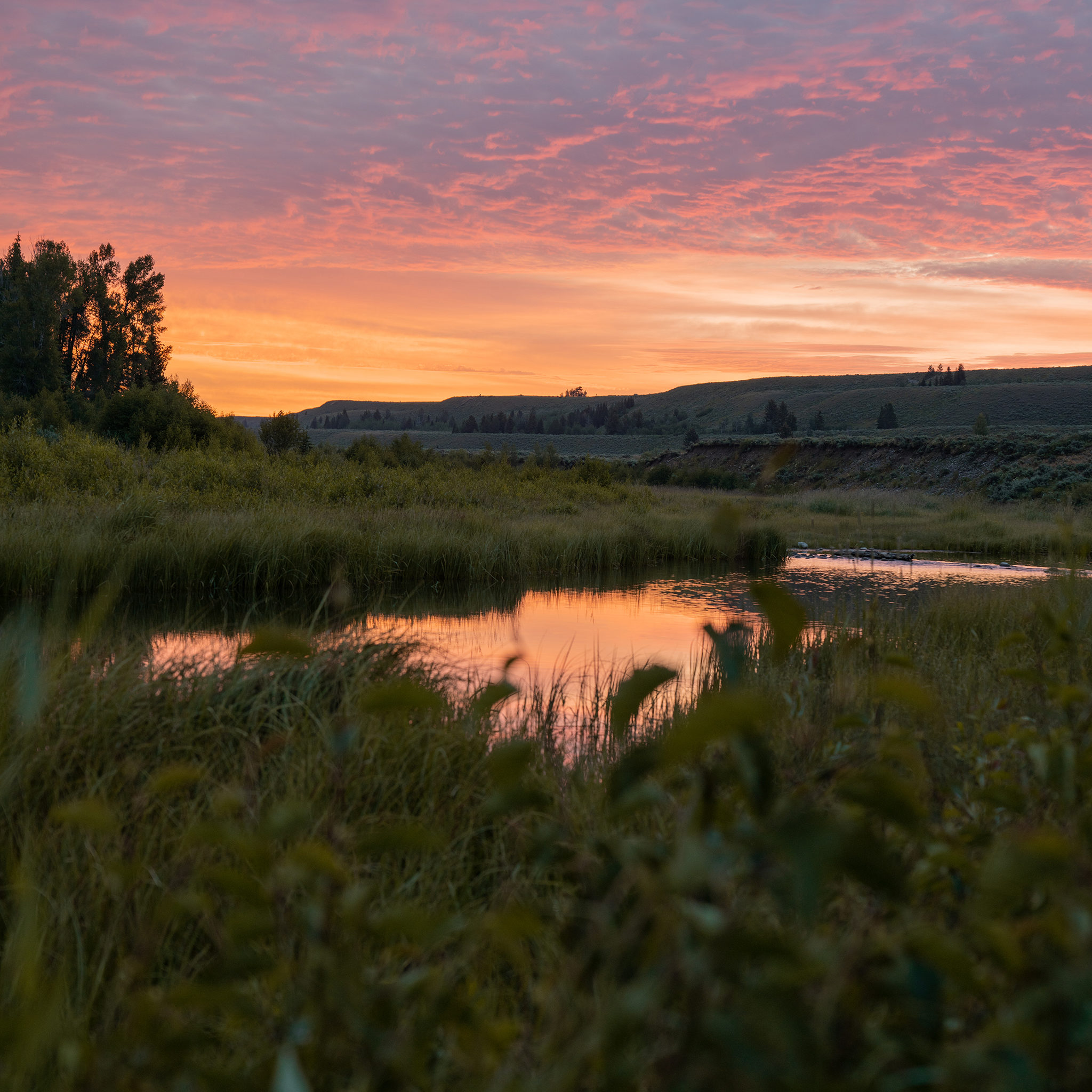 10 Best Things to Do in Grand Teton National Park
To give you a little bit of a background, I first visited Grand Teton National Park with my family during the summer of 2022 and had some amazing experiences, unlike anything I'd experienced before. That is what compelled me to create this guide for the 10 best things to do in Grand Teton National Park.
Right before we get into the good stuff, I feel obligated to state the obvious: when visiting the Grand Tetons, make sure to leave everything as you find it (or, better than you find it in some cases). Bring all trash with you out of the park, DO NOT get within 100 yards of wildlife, and most importantly, leave no trace.
I cannot tell you how many people I saw stopping their cars to watch wildlife (which is totally fine), but completely disrespecting said wildlife by getting as close as possible to take pictures and record videos. Please take this to heart: Bison, bears, moose, and all other wildlife are easily agitated and will attack you if they feel provoked. Almost all wildlife attacks are initiated by humans being stupid by getting too close or antagonizing the animals; while there are some cases of unprovoked attacks, it is important to remember to stay 100 yards away from all wildlife.
After all, it is their home NOT ours. So, without further ado, let's get into the good stuff.
1. Visit Mormon Row Historic District
To start out, one of the best things to do in Grand Teton National Park is to visit Mormon Row Historic District. Lucky for you, this part of the park lies outside the "pay to see" section of the park, meaning there is no payment required to see Mormon Row.
Originally settled by 27 Mormon families from Salt Lake City, Utah, Mormon Row is one of my favorite spots in the national park because of its superbly preserved history (I'm a BIG history guy, which is ironic since I almost failed history class in high school).
There are several properties that are not open to the public but are easily photographed from public property (see below). I'm always amazed to see how people used to live before technology became widely available, this location being a prime example of pioneer living.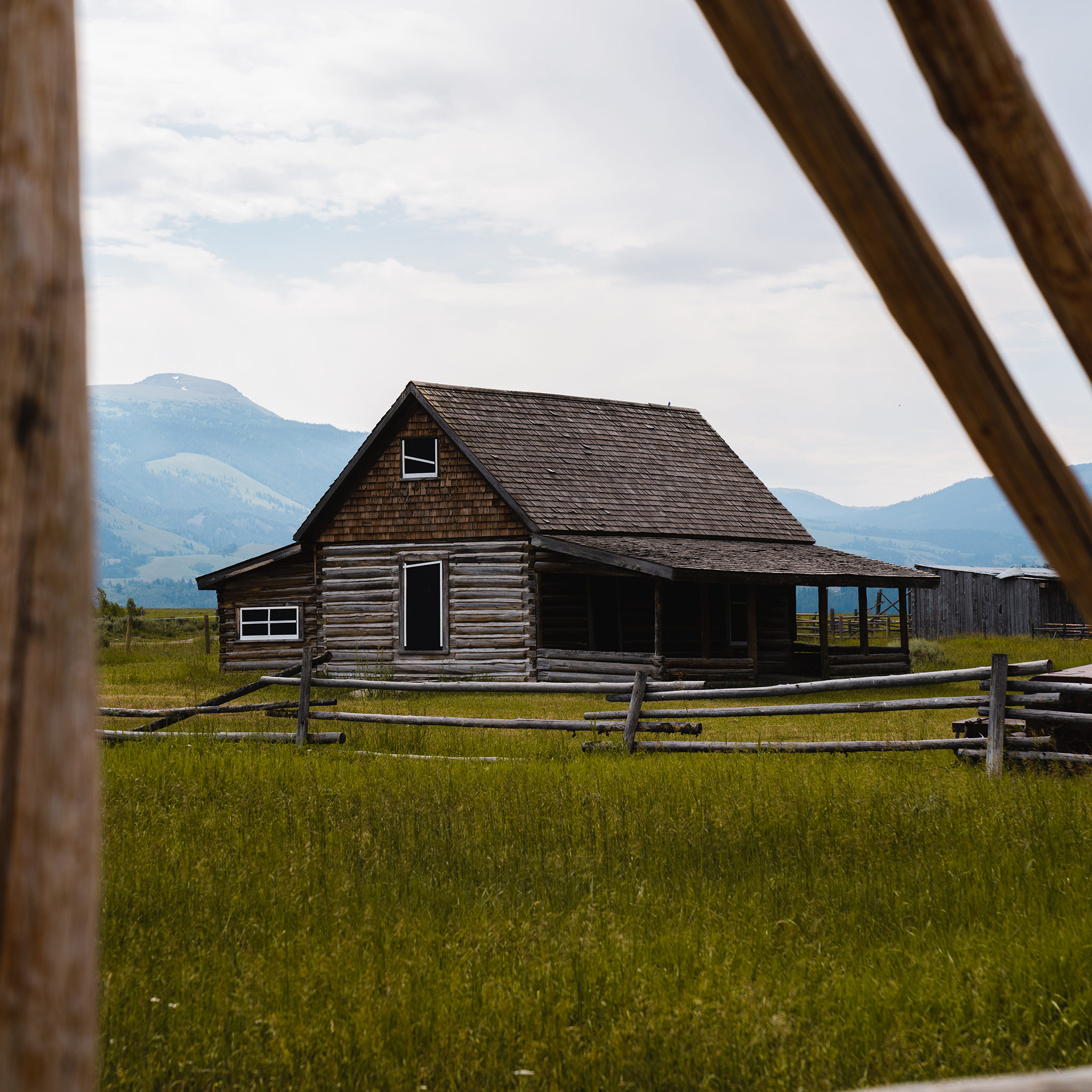 2. Watch the Sunrise at the T.A. Moulton Barn
Conveniently, the T.A. Moulton Barn is located within the Mormon Row Historic District and is a sight you cannot miss when visiting the Grand Tetons. While it is an incredible sight to behold at all times of day, I recommend checking it out during sunrise for the best lighting conditions.
A word to the wise: make sure to get there 30 minutes before the sun is set to rise because you will not be the only one trying to capture a photo of the beautiful scenery (no seriously, there were about 25 other people there to see the sunrise when I was there).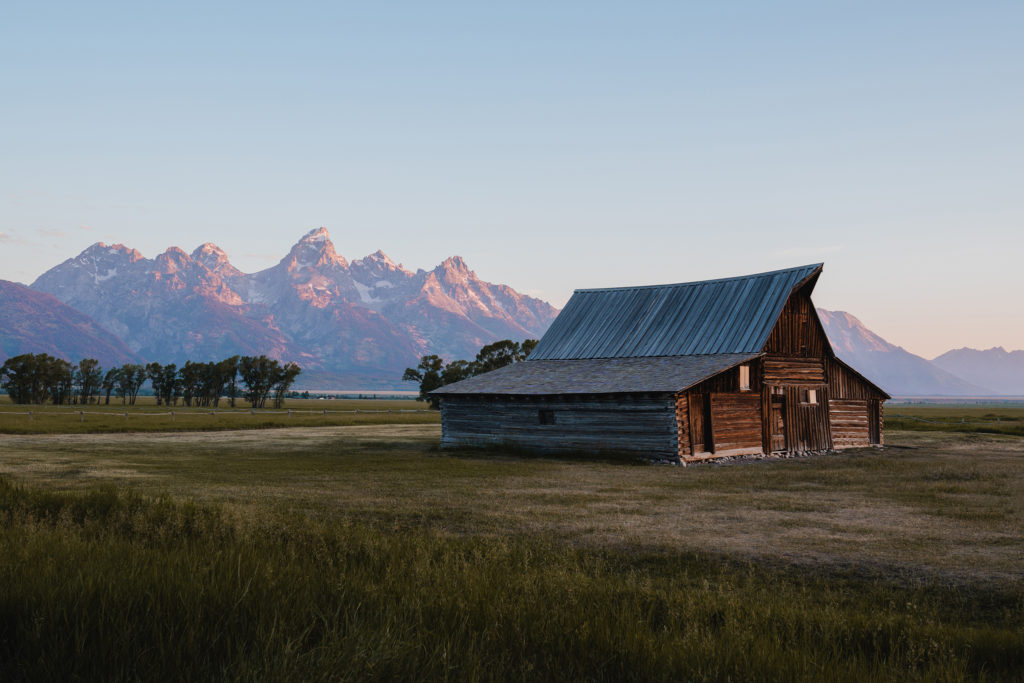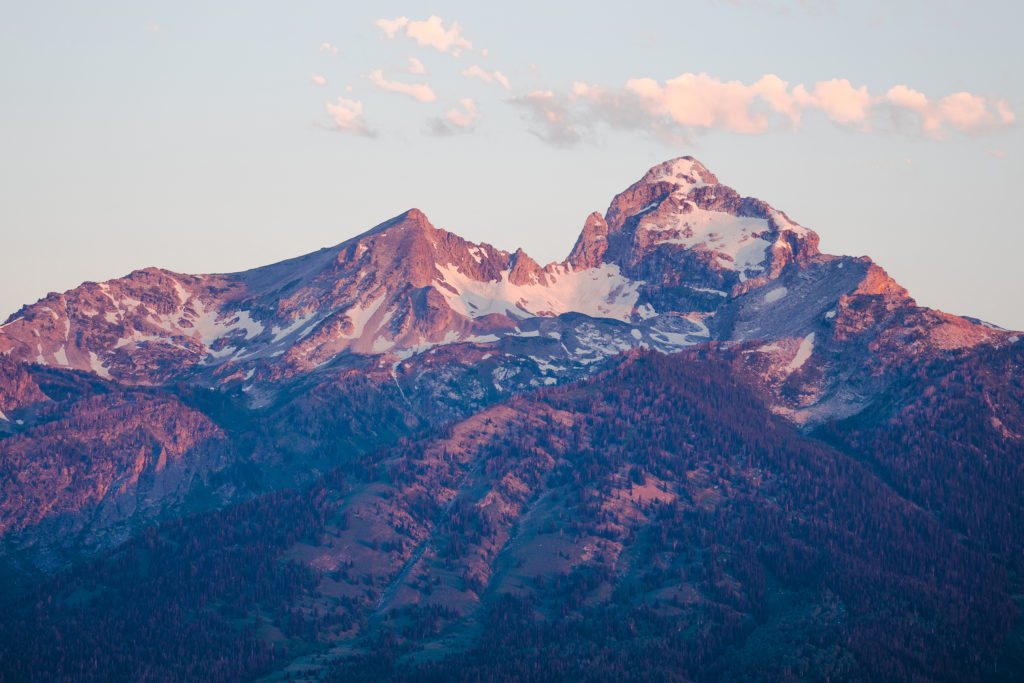 3. Visit Jenny Lake
Being another "must-see" destination, Jenny Lake made my list of the best things to do in Grand Teton National Park because of its sheer size and beauty. But make sure to do yourself a favor and get to the lake either early in the morning or just before sunset because it is actually impossible to find a parking spot during a hot summer day.
We were lucky enough to find someone leaving just as we arrived, so you bet we let our inner Boston come out when snagging the only open parking spot in the lot. Another word to the wise: go to the north entrance because it was far less mobbed than the south entrance.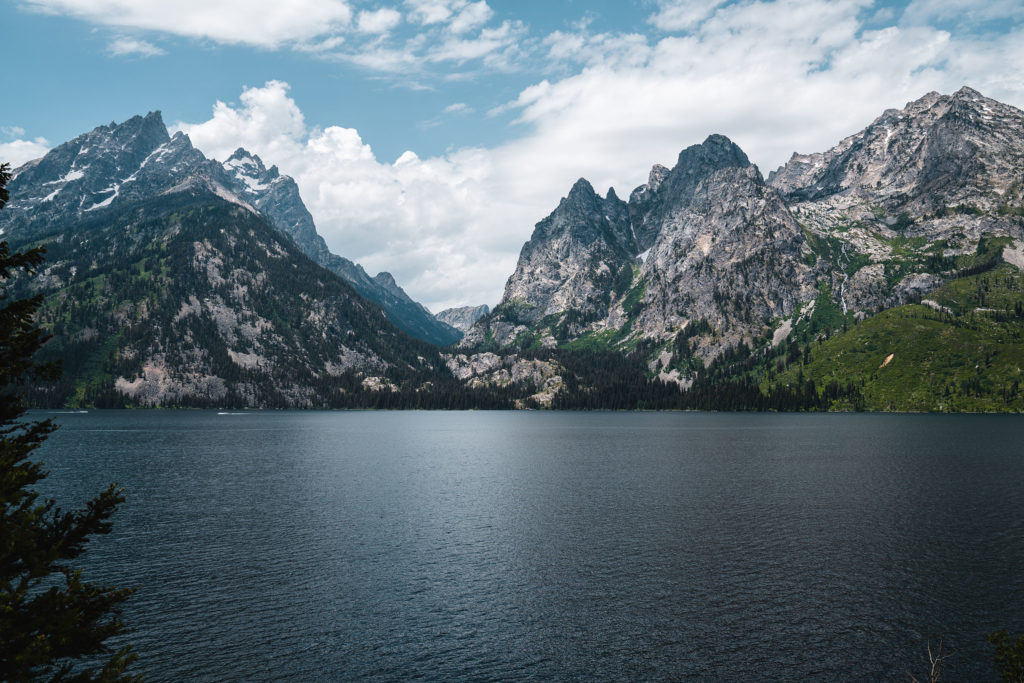 4. Hike From String Lake to Leigh Lake
This lovely hike is one I was able to experience while visiting the Grand Tetons. It is very easy and has little to no elevation gain, perfect for a Sunday jaunt kind of hiker. I saw several signs to be "bear aware," which were very alarming to me since I have never seen a bear in person (and I'm hoping to keep it that way for as long as possible).
Fortunately, we did not encounter a bear or any wildlife, most likely because this is a very popular trail. But for all you cynics out there, just because it is popular doesn't mean it isn't worth seeing. I highly recommend getting there early in the day, however, because it took us about 20 minutes to find a parking spot at 2 pm on a Thursday.
5. See the Snake River Overlook
Being one of the many overlooks to stop at while driving down highway 191, the Snake River overlook was by far my favorite of the bunch. I was blown away by the view of the river with the insane mountainous backdrop, which is why this spot earned its way on my list of best things to do in Grand Teton National Park.
Oh, and one more thing: make sure you don't look down over the edge if you're afraid of heights because this overlook had the biggest drop of all of them. But I'm pretty sure there are plenty of trees to break your fall, so don't be too worried (but I digress).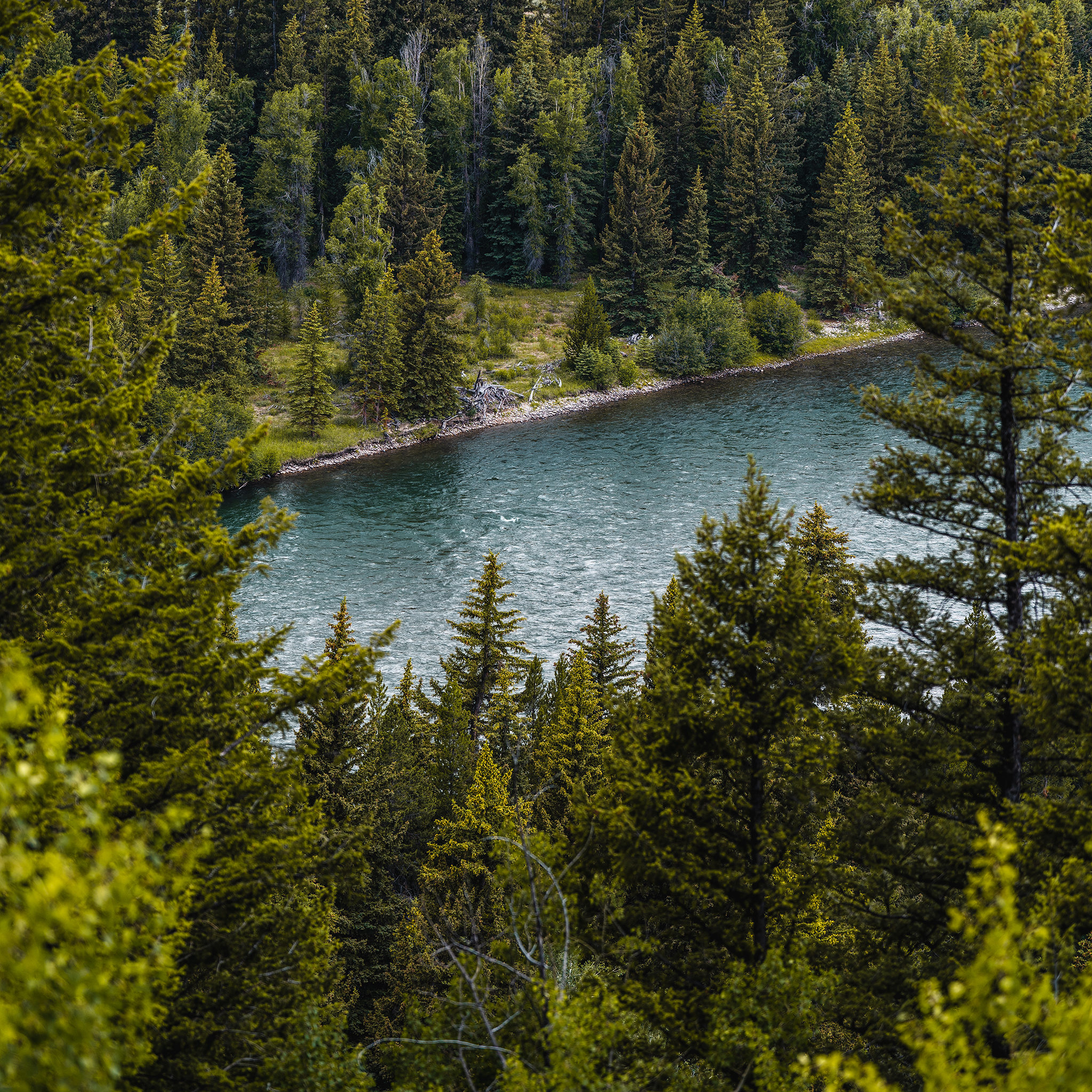 6. Explore the J.P. Cunningham Cabin
I think it's worth noting this spot solely because of the insane view of the mountains you get when stopping at this historic cabin. Unfortunately, it started raining pretty good as soon as we arrived at this location, but I did manage to capture some photos of the gorgeous wildflowers.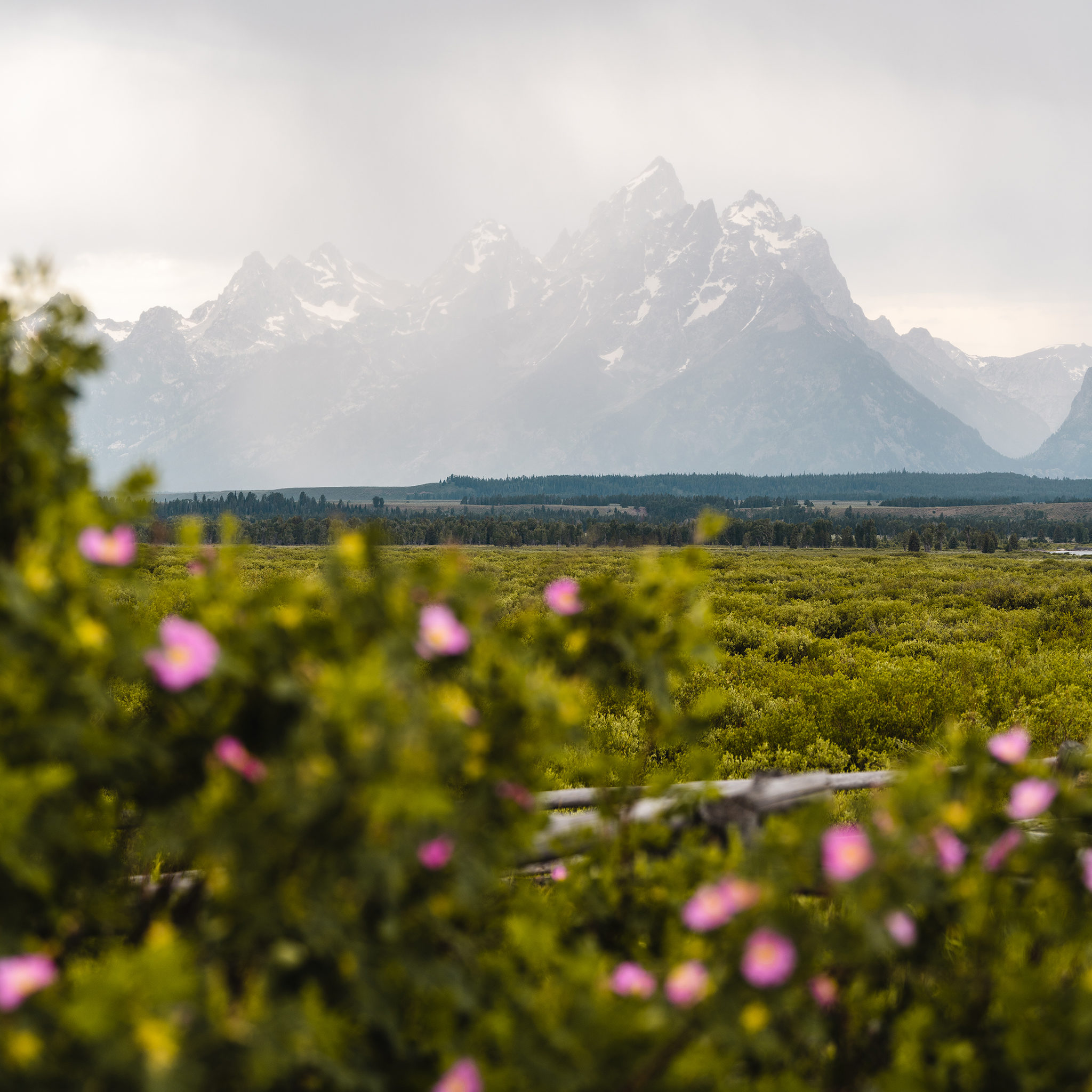 7. Ride the Tram in Teton Village
Technically speaking, this attraction isn't within the confines of Grand Teton National Park, BUT, it was such a cool experience that it would be a disgrace not to include it on my list. You can ride the tram during the summer months, and while it is a bit pricey, it is totally worth it because of the 360-degree views you get when you reach the top.
If you're afraid of heights, I do not recommend this activity since you will be very high up and the grated floor at the mountain-top tram station is unsettling, to say the least. But for those adventure seekers in the group, the insane views at the top make the price of admission worth it.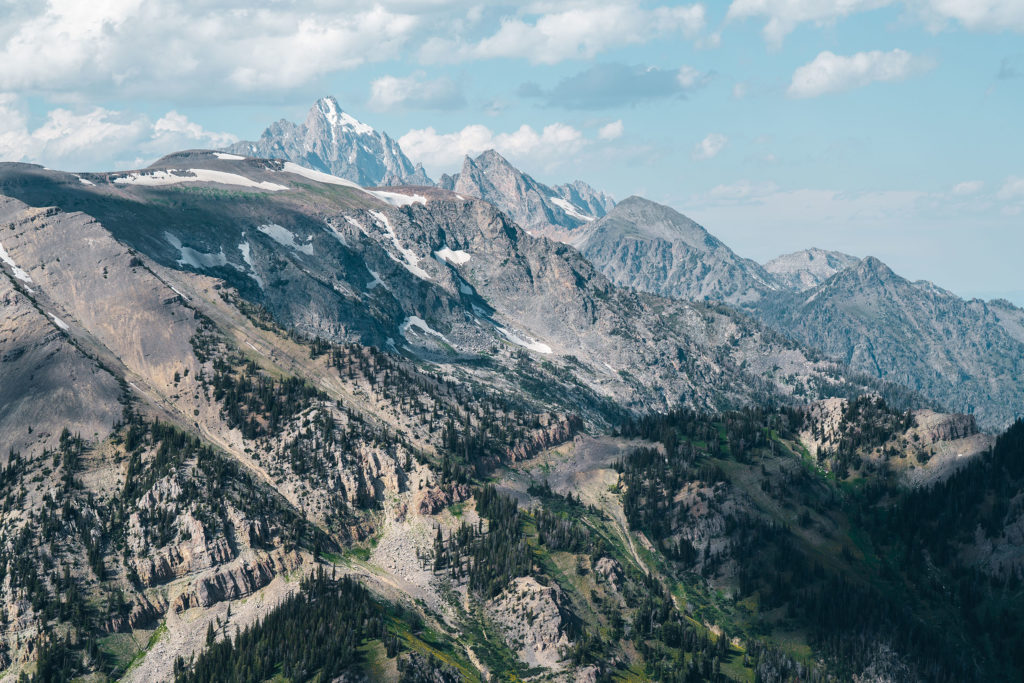 8. Check Out Jackson Lake
Jackson Lake is the largest lake in Grand Teton National Park and is definitely a sight worth seeing. We did not get lucky enough to see the lake on a sunny day, but even in the rain and overcast weather, it was still downright beautiful.
9. Find Some Wildlife
Again, I can't stress this enough: make sure to give wildlife a respectful 100 yards of space. Even if you see other people getting closer, don't follow in their idiotic footsteps and continue admiring from afar. But, if you are lucky enough to get a good glimpse of some wildlife, make sure to break out your telephoto lens.
Some great spots to see wildlife: bison can be seen laying on the side of highway 191, moose can easily be seen near Schwabacher Landing, deer/antelope can be seen pretty much anywhere there is thicker vegetation, and bears, well, they are definitely the most elusive in my experience.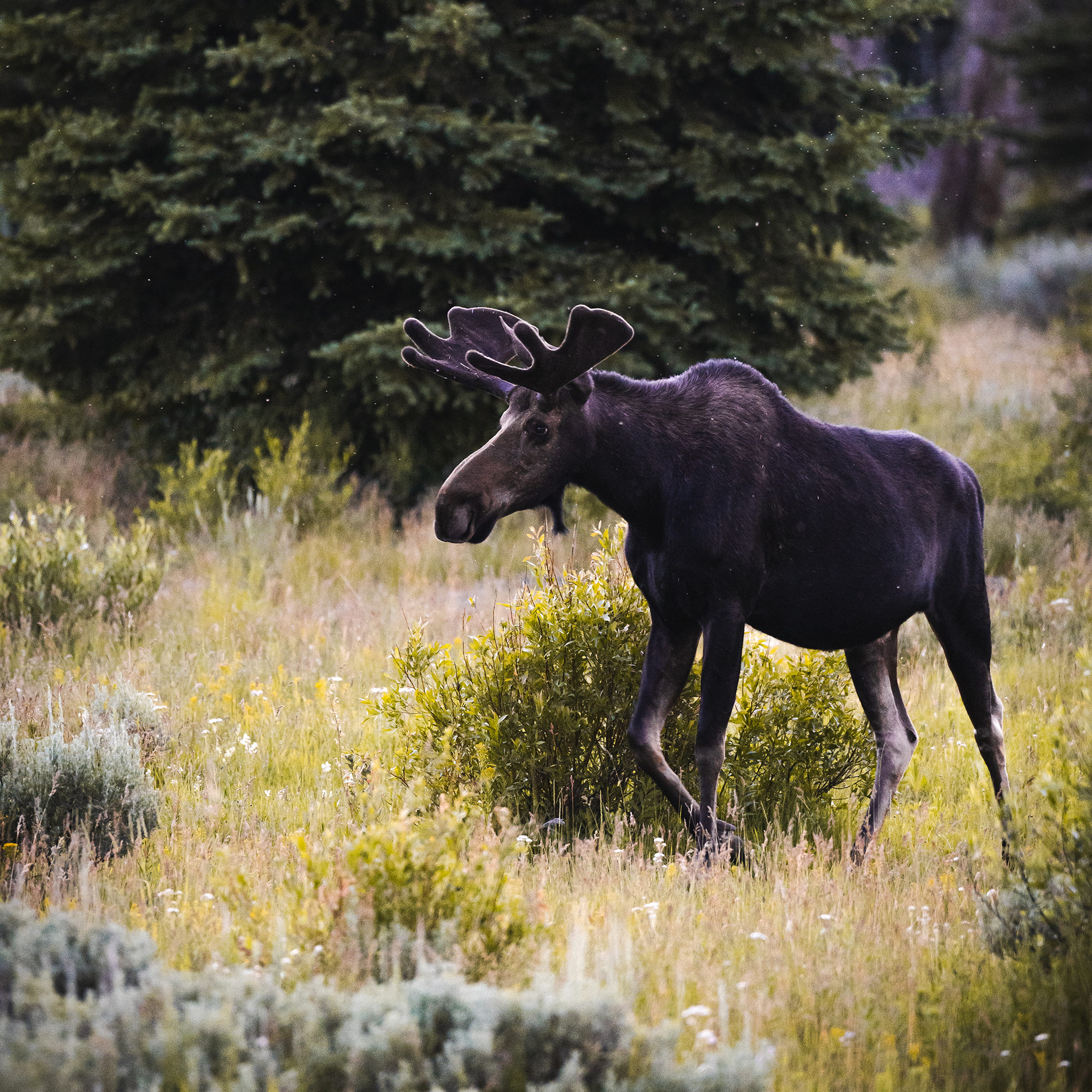 10. Watch the Sunrise at Schwabacher Landing
Lastly on my list of things to do in the Grand Tetons is, perhaps, my favorite activity of all. I tried 2 days in a row to capture a beautiful sunrise at this location, and at the last possible second of the 2nd day, I was rewarded with a stunning alpenglow reflection.
I would recommend getting to this spot 30 minutes before sunrise because it is a very popular spot for photographers and sunrise-seekers alike. But, if you do a little exploration off the beaten path, you might just find a beautifully untouched spot like I did (don't actually go off trail, just look for a trail less traveled).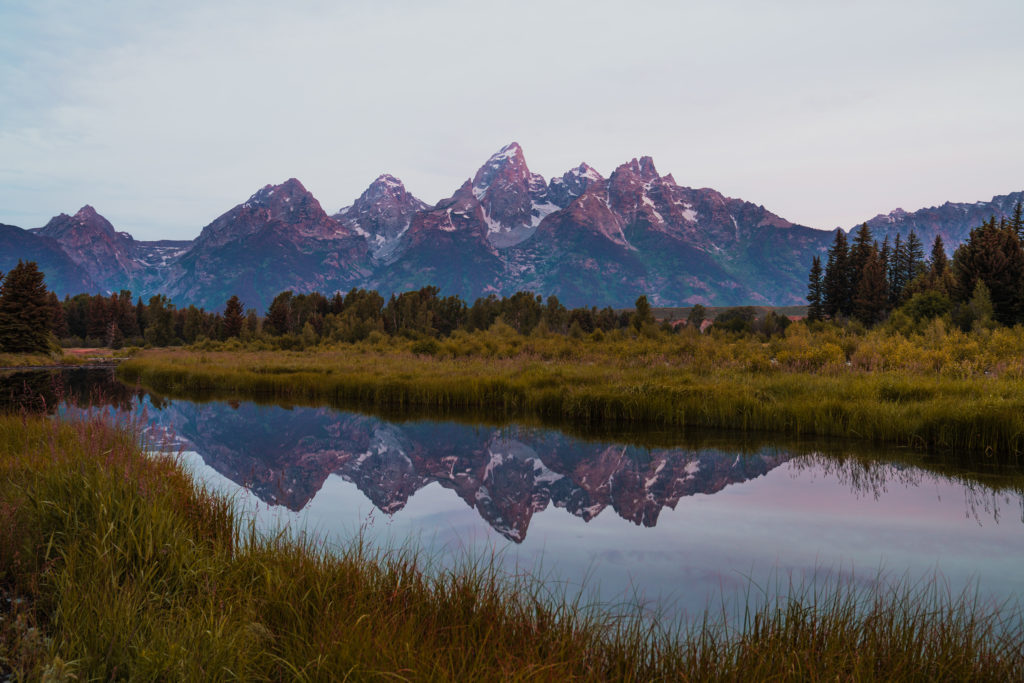 Conclusion
Although I wasn't able to spend as much time in Jackson Hole as I would've liked to, I am extremely grateful that I was able to experience first-hand the immense beauty and serenity that the national park has to offer. My favorite part of this whole experience was just the simple fact that I was able to unplug for a few days and just enjoy the world around me.
As always, I think it's important to appreciate the little things in life like spending time with the people you love and admiring your surroundings. Should you ever find yourself in Grand Teton National Park, make sure to check out all the things mentioned in this post; I promise you will not regret any second of these experiences. Let me know in the comments your favorite things to do at the Grand Tetons.