How to make a photography website: One of the biggest struggles as a photographer today is sharing your work in a beautiful and personal (and easy) way. Sure, there's social media. But everyone has an Instagram, and let's be honest; a social media page is not a portfolio. It is much harder to present your work in a personal manner on social media, and sending your IG username to a potential client lacks a certain, how you say, level of professionalism.
I probably wouldn't hire a photographer if they didn't have a website, but that's just me. Anyway, enough chitchat; let's get into the juicy details of today's subject: how to make a photography website.
My experience as a web developer & designer
You might wonder who I am and how I am qualified to write about such an important subject. I'm Matt, and I've been designing and developing websites since I was in the 7th grade. That's over ten years of experience, and along the way, I've tried many different approaches and learned the hard way doing so many times.
The first live website I ever built was supposed to be an online community for developers to share their codes with others and get feedback on said codes. But as GitHub and StackOverflow had already existed, my little HTML and CSS project was an utter flop. But that didn't discourage me.
I've used almost every website builder and hosting provider out there and can confidently say that many of them are total garbage. Though I suppose one person's trash is another's treasure. But I digress.
I should also state that I am currently a professional web designer & developer / SEO specialist for a marketing agency in Northern Fort Collins, which has brought a ton of insight into my strategy. So with all that said, let's talk about how to fuse that realm with photography.
My experience as a photographer
In addition to my obsession with web design & development, I have been a photographer since 15. I currently freelance and am available for hire for commercial projects involving product, lifestyle, and travel photography and videography. But back to the good stuff.
I've been trying for many years to find an easy way to host my photos online in a visually appealing and easily accessible way. The biggest challenge for me has always been that I like to have complete control over my website designs, but I also don't have time to reinvent the wheel, so to speak.
As a result, I have gone through custom-built sites, SmugMug, Squarespace, Shopify, Joomla, OctoberCMS, Strappi CMS with a Vue.js frontend, and even Wix. Now, I don't expect you to know what all of those are, but my point is that I've tried a lot of platforms, and none of them worked for my particular situation. But just because something didn't work for me doesn't mean it won't work perfectly for your situation. So let's talk about how to make a photography website using some popular platforms.
How to build a photography website
The most crucial step when building a photography website is the planning phase. Ask yourself what you want out of a website. Are you trying to sell prints and presets? Are you trying to allow others to contact you? I suggest making a list of features to narrow down your workflow before spending a second building your website.
Using my situation as an example, I knew I wanted a website where I could sell products and customize my design to my liking without coding everything from scratch. I also knew I wanted an SEO-friendly platform, meaning I could easily optimize for search engines like Google. Lastly, I wanted a solution that wouldn't cost me an arm and a leg, which I'm sure is true for all of you reading this.
As someone with professional experience in photography and web development, I highly recommend you make SEO a priority (page speed is a factor in search engine rankings, making it of the utmost importance). So right off the bat, I could narrow my selections down to 5 platforms. Let's take a look:
The best 5 platforms for building a photography website
Please note: I am not sponsored or compensated by companies listed on this page.
Squarespace
Adobe Portfolio
SmugMug
Wix
WordPress
Squarespace
Pricing: Starting at $16/month (really $192/year)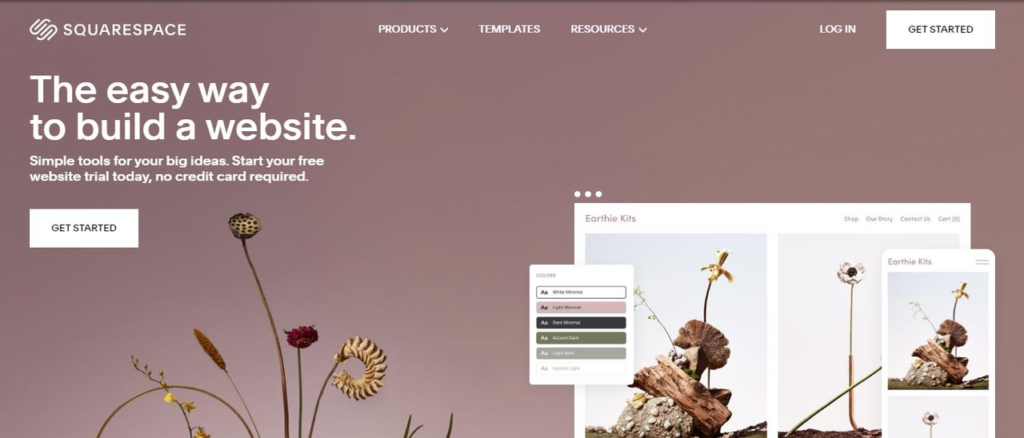 Raise your hand if you've heard of Squarespace before. That's what I thought. Squarespace is perhaps the most popular platform for artists to build a digital portfolio of their very own, and for a good reason. I used Squarespace for nearly three years after first learning about them from FroKnowsPhoto on YouTube.
They have tons of free templates that make it super easy for a photographer with no web development skills to build and deploy a website in minutes. On top of that, the templates are extremely visually appealing and make the perfect starting point for anyone looking to build their digital portfolio.
I like how affordable Squarespace is, although I hate it when companies advertise a monthly price but make you pay for the whole year upfront to get that "monthly" price. But anyway, a personal plan starts at $16/month ($192/year before tax). If you're looking to sell things, you can expect to pay at least $23/month before tax, which is really $276/month.
But the biggest reason I ditched Squarespace was that it was too austere for my liking. While that is a pro for many, I didn't like that I couldn't wholly customize every aspect of the UI/UX. Also, I didn't particularly appreciate that Squarespace generally is not SEO-friendly by my standards.
The other most significant reason I left was that I like to control my server. I want to know exactly where my data is stored and have complete control and ownership over said data. But most ordinary people couldn't care less about those details. I love Squarespace and think it's an excellent platform for those looking for a super easy, affordable, and maintenance-free web hosting solution.
Pros
SUPER easy to use
Affordable
Great for displaying high-quality photos
eCommerce-friendly
Mobile-friendly
Visually stunning
Tons of free themes
Cons
Not very SEO-friendly
eCommerce plans cost a lot
Not super customizable by my standards
No control over the server
Adobe Portfolio
Pricing: Starting at $9.99/month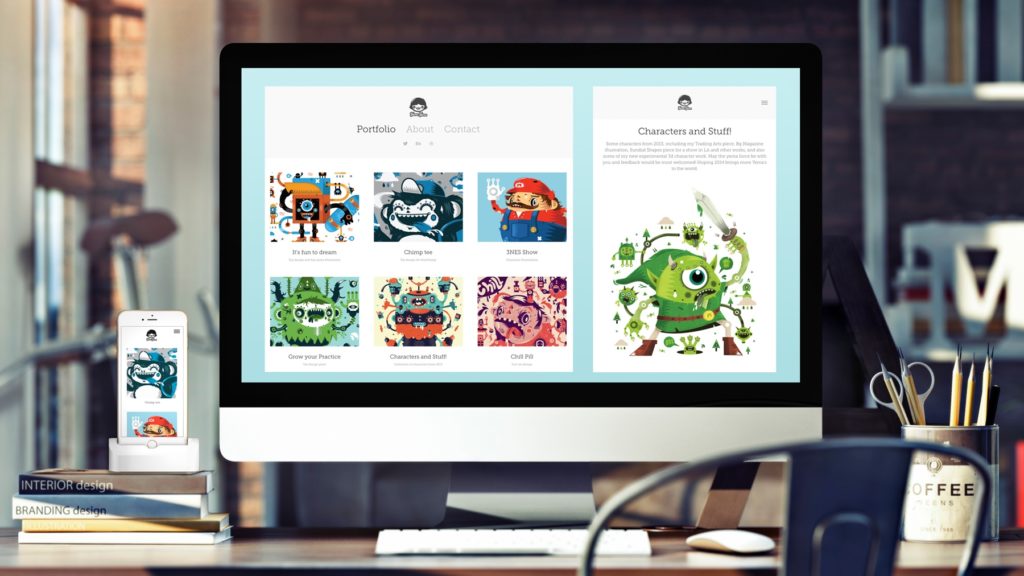 To be completely transparent, I've never personally used Adobe Portfolio to host my website. But, I have several friends and colleagues who have and absolutely love it for their digital portfolio. I like this option, though, because it is by far the most affordable, which for starving artists like myself is a big deal.
If you have at least an Adobe Creative Cloud Photography subscription, you already have access to Adobe Portfolio. Yay! The only added cost would come if you wanted a custom domain name, which you have to pay for separately and will have to connect to your Adobe Portfolio website. If you choose this route, I recommend using GoDaddy to purchase your domain.
I'd be willing to bet a kidney, though, that this platform is not SEO friendly and does not allow too much customization. But for the price, beggars can't be choosers.
Pros
SUPER-DUPER easy to use
Downright cheap
Great for displaying high-quality photos
Mobile-friendly
Can use custom domains
Cons
Not SEO-friendly
Not eCommerce-friendly
Not very customizable
No control over the server
Custom domains have to be managed through a third-party
SmugMug
Pricing: Starting at $13/month (really $110/year)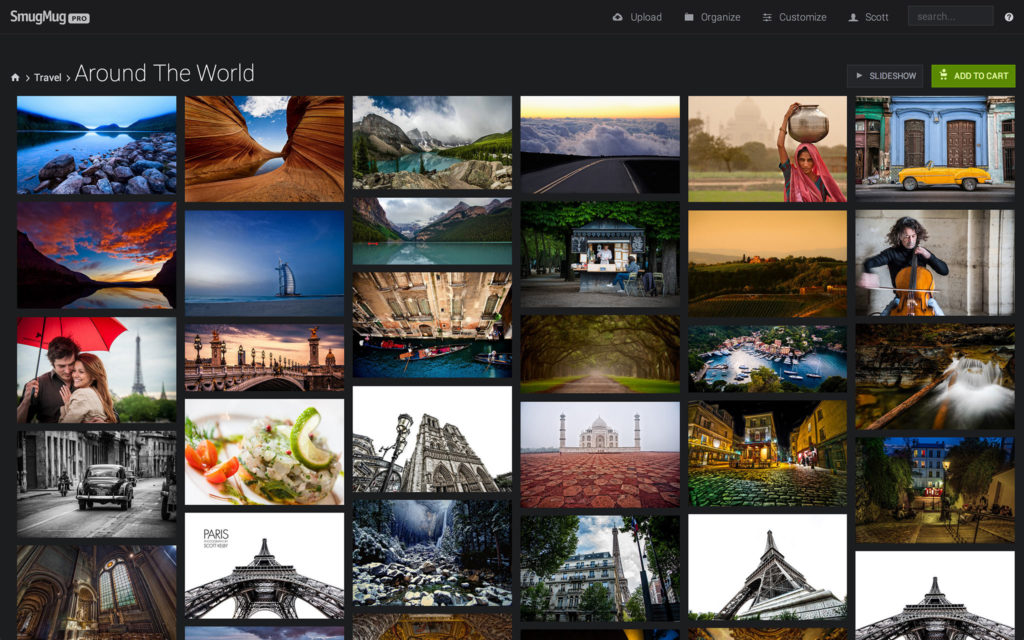 SmugMug is one of those platforms that are really just meant for photographers. If you sell copies of your art, as many painters and digital artists do, you could also use SmugMug. But it was originally built by photographers for photographers.
I used SmugMug for about six months and loved it because I could quickly sell prints and display my photos on the same website. I really liked that when viewing an image on the portfolio pages, you had the option to buy it right then and there. I also loved that it was simple to use and easy to set up.
But let's get into the downsides. Again, with this platform, you have no control over your server and have to trust that all your data will be safe. I also didn't love the minimal customizations compared to other platforms on this list. But the most significant deterrent for me was how ugly the templates were, to begin with.
Ugly is a relative term, but I'm sure we could all agree that Squarespace dominates in the aesthetics game. But my least favorite part is that to sell anything through SmugMug, you have to buy a more expensive plan, which is advertised at $28/month, but we all know what that means.
I also was not a fan of how many options there are by default when selling prints. Many people might see this as a pro, but I think giving people too many options when buying makes it more difficult for them to pick one and takes away from the value of exclusivity.
Pros
Easy to use
Pretty affordable
Great for displaying high-quality photos
eCommerce-friendly
Can use custom domains
Tons of printing options
Cons
Not SEO-friendly
eCommerce plan is expensive
Not very customizable
No control over the server
Custom domains have to be managed through a third-party
Too many printing options
Wix
Pricing: Starting at $16/month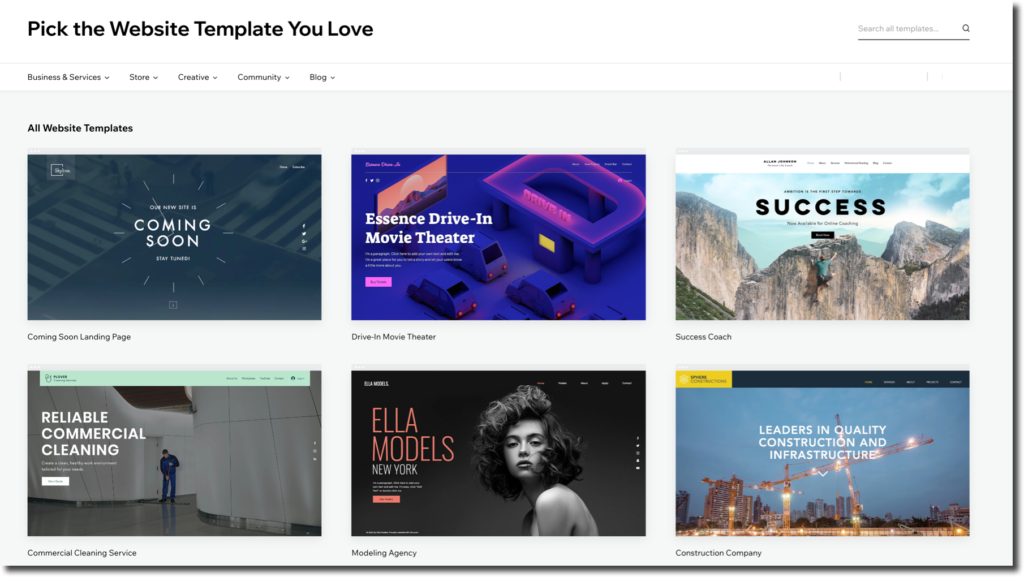 Let me start by saying I'm not too fond of Wix's user interface. I find it overly complicated and cluttered, which makes trying to build a website much more annoying. But I also think there are a lot of great features nonetheless.
Wix is not solely for photographers, but it is easy to create a portfolio website where you also sell products. But again, if you're looking to sell products, you have to upgrade your plan.
I'm not too fond of the free Wix templates and don't mind the pro ones, but I know I am much pickier than most regarding design. You can also use a custom domain and actually purchase it through Wix, but I don't think they offer the best prices by any means.
In terms of SEO technically speaking, Wix is SEO-friendly, but the page speed and content writing areas are iffy. I know I've been talking a lot of smack about Wix, but one place I think they dominate the previous mentions is on the integration front. It is super easy to add automation, as they call them, which can easily be integrated with third-party apps such as Zappier to make your life easier.
All in all, Wix is not my favorite, but if you find yourself in need of highly-specific task automation, Wix might be your best route... so far.
Pros
Pretty affordable
Highly customizable
Great for automating menial tasks
eCommerce-friendly
Can buy custom domains through Wix
Cons
Not super SEO-friendly
Not known for digital portfolios
Obnoxiously overcomplicated interface
eCommerce plan is expensive
No control over the server
WordPress
Pricing: Not totally free, but you choose your price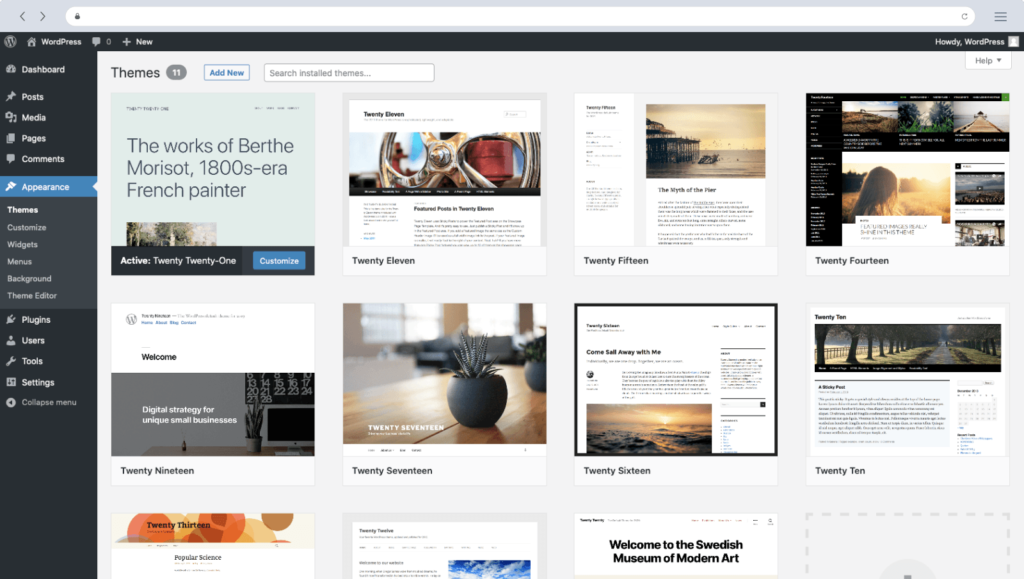 Okay, last but certainly not least, we get to WordPress. I must admit that for many years I despised WordPress because I never thought it was customizable enough for my needs. I felt I had to be a PHP developer to get the website I wanted. But over the last two years, I realized that just the opposite is true.
WordPress is, without a doubt, the most customizable platform on the market. And the best part? It's free! You still have to pay for a domain and hosting, but the software is free. Since WordPress hosts over 35% of websites on the internet, it is continuously being updated with security enhancements and new features.
But I would advise you to be cautious with WordPress. It is easy to install the wrong plugins and themes and make for a horribly slow and unusable website. To avoid annoying trial and error, look at my WordPress best practices for photographers.
To avoid writing a novel about why I love WordPress, let's get into my reasoning. You have the freedom to pick your hosting provider, which can make or break your loading times. Additionally, the insane number of free and paid plugins makes it extraordinarily easy to customize your site to suit your needs.
SEO can be easily achieved through various plugins, and selling products on your website with WooCommerce is free and easy to set up. I also think it would be easier to say what you can't do with WordPress than to list out all the possibilities because they really are endless.
Full transparency: I use WordPress with WooCommerce and couldn't ask for more customization. I've also recently switched from the Uncode theme to Oxygen page builder to make my website faster and less bloated. Again, check out my post on WordPress best practices for photographers for my complete setup.
Pros
Free for WordPress itself
The most customizable platform on the market
Frequently updated
Widely supported
eCommerce plugin is free to use
It can be extremely SEO-friendly
Can have complete control over your server
Easy-to-use interface
Cons
Having this much customization might be overwhelming for some
Requires more setup and knowledge of web hosting
It can be extremely slow with the wrong hosting and plugins
Specific plugins can be costly and add up over time
So, which platform is best?
That is up to you to decide! It can be daunting at first, but hopefully, this guide has shed some light on the otherwise unexplored waters of how to build a photography website. In my case, WordPress works best. But if you don't want to worry about web hosting, domain registration, and making your website PCI compliant for selling products, then one of the other options might be better for you.
Please feel free to add your questions or comments in the comments section below, and I'd be happy to help or defend any of the sentiments stated in this post. Happy website building!